Range of colours 1 to 40 corresponding to order form + Multicolours
Thanks to the inspiration of Danish candlemaker Kurt Saybe, Moorlands Candles started life in a small way back in 1981. Moving into a new industrial unit in 1993 allowed us to expand our range, and we have been supplying wholefood co-operative Suma for nearly 25 years now with our hand dipped candles, which are all made here in Alston.
More recently we have had the good fortune of supplying the candles which illuminate the Sam Wanamaker Playhouse, and recycling their candle ends. We also dip double wick candles for films such as Mr Turner and Mr Holmes, and TV productions of Jeckel and Hyde, Dickensian and Victoriana.
Many of the small shops we continue to supply have had to try to adapt to supermarket and internet shopping, some doing their own online business, and one wonders what will become of our High Streets.
We endeavour to continue to make quality candles at an affordable price, and welcome any feedback on our products.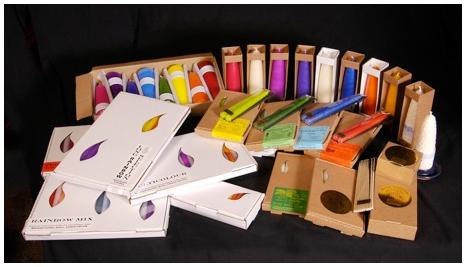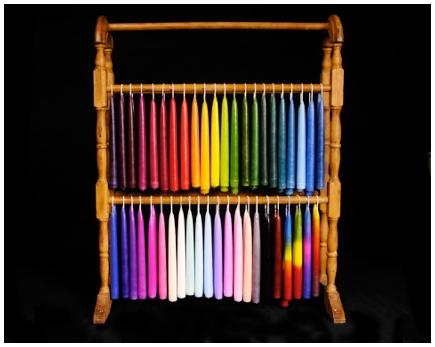 Boxed selection Super Giants in background (SGSX)
on left Standard selection (RDX01) (RSX03) Long standard 7 pairs (LSX01) Multicolour 11 pairs (LMX01)
Towards right
Tree Chime 20 pairs mixed colours (TCX01) Scented boxes 4 pairs ESX01, 02,03,04
Scented single packs ESP
In foreground right Vegetable oil 4 pairs natural colours (PCX06)
Beeswax 4 pairs standard (BAX)
Beeswax single pair stumpie (BSX) Pack spills (BES
Open selection boxes
Outdoor candles ODF & ODC with Spanish
papier Machee Figures by Satier and Carmen